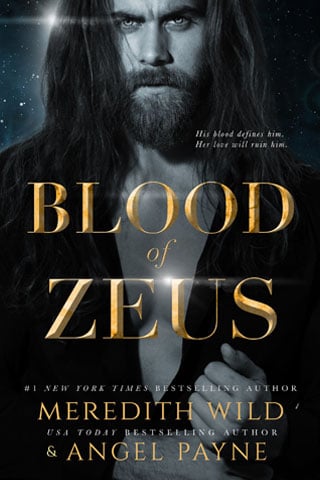 Paperbacks
---
Digital
---
Audio
---
Autographed
---
International
---
Blood of Zeus
---
An ancient grudge. A forbidden love.

The only thing worse than being a demon is being a Valari. As an undergraduate at Los Angeles's Alameda University, Kara Valari can sometimes succeed at forgetting she's both. Lost between the pages of the classics and tucked into the shadows of lecture halls, she can dodge the paparazzi's lenses as well as her family's publicized dramas—not to mention their private expectations. She has one more year to feed her true passions. Then she'll be expected to fulfill a much darker destiny.

Cursed with inexplicable strength and god-like stature, literature professor Maximus Kane knows all about darkness. Every day he's reminded of the missteps of his childhood and the devastating consequences they've had on those dearest to him. To atone, Maximus spends his nights alone and his days submerged in the quiet life of academia. His existence has become a study in control, and he's become a master at it—until Kara Valari walks into his toughest course.

Viscerally, Kara's everything he craves. Logically, she's everything he rejects. She's a starlet of privilege. She's also a student. And after one touch, he can't deny that she's awakened something in him that may never go dormant. Nothing about her makes sense, but everything about her feels right. Especially in the deepest strands of his DNA, which are still shadows of mystery to him—a mystery Kara seems determined to uncover.

She's Hollywood royalty. She's forbidden fruit. And he's pretty sure she could be the answer to everything.

Reviews
---
Other Books In This Series
---