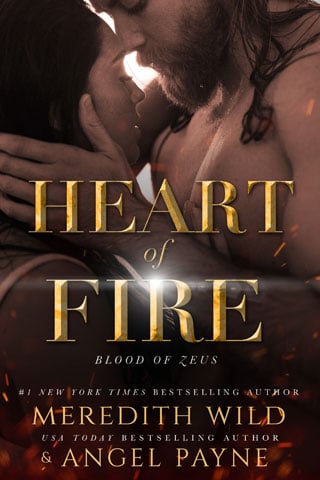 Paperbacks
---
Digital
---
Audio
---
Autographed
---
International
---
Heart of Fire
---
He's forged from heaven. She's promised to hell.

Professor Maximus Kane can no longer deny his passion for his stunning yet mysterious student, Kara Valari. But surrendering to their desires carries more consequences than just violating the Alameda University conduct codes. Kara has defied her destiny. Higher directives have been violated. Now there's hell to pay.

It's a crisis for which there seems no solution, until the explosive secrets of Maximus's bloodline are exposed. Despite all his doubts and fears, Maximus has no choice but to accept help from his enigmatic father, which means coming to terms with his heritage and embracing a bizarre new world of gods and demons. Because somewhere in that world—in the strange and sordid secrets surrounding his past—is the key to protecting Kara's future. Nothing has ever meant more to him than saving the treasure of her life and the fire of her heart.

While earth's lower realms seek payback for Kara's transgressions, Kara finds a new ally in a surprising place: the Valari matriarch herself. Beneath the scrutiny of the world press, Veronica orchestrates a plan to protect her daughter by doing what she does best—shining the spotlight on her. But by her side, Maximus can't escape the glare of the paparazzi.

Can they buy time and blind their enemies with Kara's fame? Or will Hollywood's new "it" couple and their forbidden love incite more vengeance than they'd ever bargained for?

Other Books In This Series
---